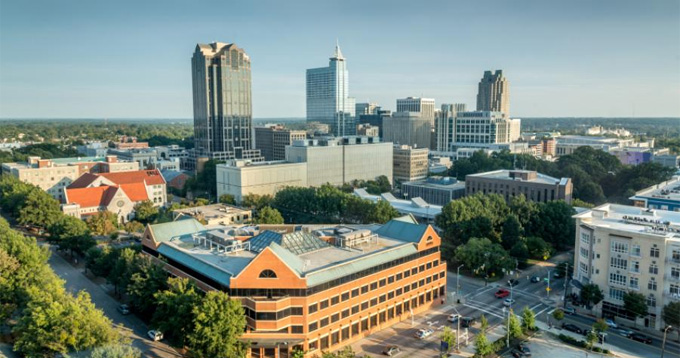 Raleigh, North Carolina, is as gracious a city as its namesake, Sir Walter Raleigh.
Raleigh, NC, is a 'Happening' Place! Long noted as one of the best areas for quality of life in the United States, the Raleigh Business community is a Community in and of itself, joining together in fun, fun projects that can only increase enjoyment for residents and tourist alike, as well as raise Raleigh's business profile. Contests and events are frequent. Shopping and restaurants in downtown Raleigh are first rate. As a community,
Arts lovers in Raleigh also boast of the BTI Center for the Performing Arts, which includes Fletcher Opera Theater, designed for opera, dance, and theatrical productions (featuring Carolina Ballet, the National Opera Company and the A. J. Fletcher Opera Institute); Kennedy Theater (featuring Burning Coal Theatre); The Lichtin Plaza (a 2 acre venue for festivals, concerts, and social functions); and the Meymandi Concert Hall featuring the North Carolina Symphony. .
Sports fans will be delighted with NCSU Wolfpack, Atheletics, Carolina Hurricanes and the PNC Arena and for nature lovers and outdoor activities, there are Raleigh Parks & Recreation, Lake Wheeler, Lake Johnson, and Pullen Park. The Capital Area Greenway, a system of public recreation trails providing walking, jogging, hiking, fishing, picnicking, and outdoor activities, is framed by the Neuse River, Walnut and Crabtree Creeks and their tributaries.
Raleigh and North Carolina have a rich and intricate history, as highlighted in NC Museum of Natural Sciences, NC Museum of History, and the Raleigh City Museum.
While there, do not miss the State Capitol, a National Historic Landmark, the North Carolina Executive Mansion, the North Carolina Solar Center, Historic Oak View County Park, or the Ray Price Legends of Harley Drag Racing Museum.
If you have a traffic ticket you would like to discuss with us please call 919-729-9000 for a free consultation and get a raleigh traffic ticket lawyer for your case.